Quality Work with Attention to Detail
---
Home
Chuck's™ ORIGINAL CELL CASE
Our original cell phone sheath and holster will keep your cell phone safe and secure. This rugged cell phone case is made of ballistic nylon and features a velcro and buckle enclosure, guaranteeing your phone is always at your side, no matter the conditions.
Attaches to your belt or vest via the durable nylon webbing.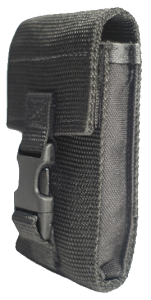 ---
Chuck's™ VETERINARY VEST
Protects pet's torso from: chewing sutures, pulling out medical devices, infections, scratching at skin irritations.
Very hygienic, wipes off with disinfectant or machine washable.
Easy on and off Velcro closure on the top of the vest.
The Veterinary Vest can be worn 24 hours a day for the life of the pet.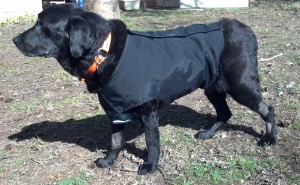 ---
Affordable Prices and Customized Work
You have a vision for your company? Here at Dagwood Designs, we are prepared to make it happen. We have the expertise to make made-to-fit Industrial Sewn Cases and Covers for almost anything you can name. If it's fabric of any kind and requires Industrial, commercial and machine sewing with assembly, we've got you covered. In fact, even if it's never been made before, our talented design team can develop and Custom Fabricate specialized solutions for your unique and specific needs.
Dagwood Designs has been serving customers with quality-sewn products and industrial custom sewing requirements for over 30 years. Our top of the line industrial sewing machines handled by top professionals in the industry of sewing have the expertise to make and assemble protective covers, outdoor products such as, outdoor gear, knife sheaths, straps, leashes, medic bags and all styles of bags and products for the government, health care facilities, forestry and the lawn and garden industry. From conception to a finished product, as a sewing contractor, we are setting the standard in contract sewing! We manufacture custom sewn products – bags, soft cases, pouches, kits, protective covers and strap assemblies. Our standards assure that your quality and delivery standards will be met. Graphics or logos can be applied with printing, embroidery or debossing. Design assistance is also available. Contact us today to quote your custom sewing needs.
We offer:
Industrial Sewing
Commercial Sewing
Customized Sewing
Government Sewing
Our core competency is custom carrying cases, bags, pouches,leashes, straps, knife sheathes and backpacks and outdoor gear that meet the special needs of our clients. Our technology keeps up with your vision.
We are in business to be your loyal sewing partner, delivering high quality goods in a timely fashion. Combined with our team of experts, our manufacturing technology enables us to offer very competitive pricing for the highest quality work. Our clients range from small business owners and inventors to national corporations and government contractors.
Local references available.
Call us today for a FREE initial consultation!
(503) 396-6965
---
---
MADE IN THE U.S.A.
We make quality products for quality people.